Medical Waste Management
What Is Medical Wastes?
Medical waste is the waste generated by various medical activities in or outside hospitals, including but not limited to all types of human tissues, blood, body fluids to be disposed of, sharp instruments such as needles, syringes, etc., waste of medicines and pharmaceuticals, all materials, In their containment of pathogenic and infectious agents.
With the advancement of medical techniques and the expansion of medical fields, the need to find safe ways to safely dispose of these wastes has increased, especially as they are of a special nature, requiring different treatment from other types of waste. Failure to properly dispose of them can lead to serious consequences, (2) the spread of diseases, epidemics and transmission of infection, (3) air pollution and (4) water and soil pollution.
How Does SEPCO Deal With Medical Wastes?
SEPCO Environment provides an integrated system for the management of medical waste in all its classifications and using the latest technology to ensure the highest environmental quality standards.
This is followed by a phased mechanism to deal with it, from the proper sorting process within the facility to final disposal after the removal of the risk. These include:
Management: Sorting and classification of waste by type and level of risk.
Collection: Collection of waste after sorting at designated sites and isolating radioactive materials.
Transportation: The transfer of waste to the treatment sites through a large fleet cooled and equipped with the latest technology.
Treatment: Treatment of waste to reduce its size and remove the risk areas.
Disposal: Disposal of waste treated like other municipal waste.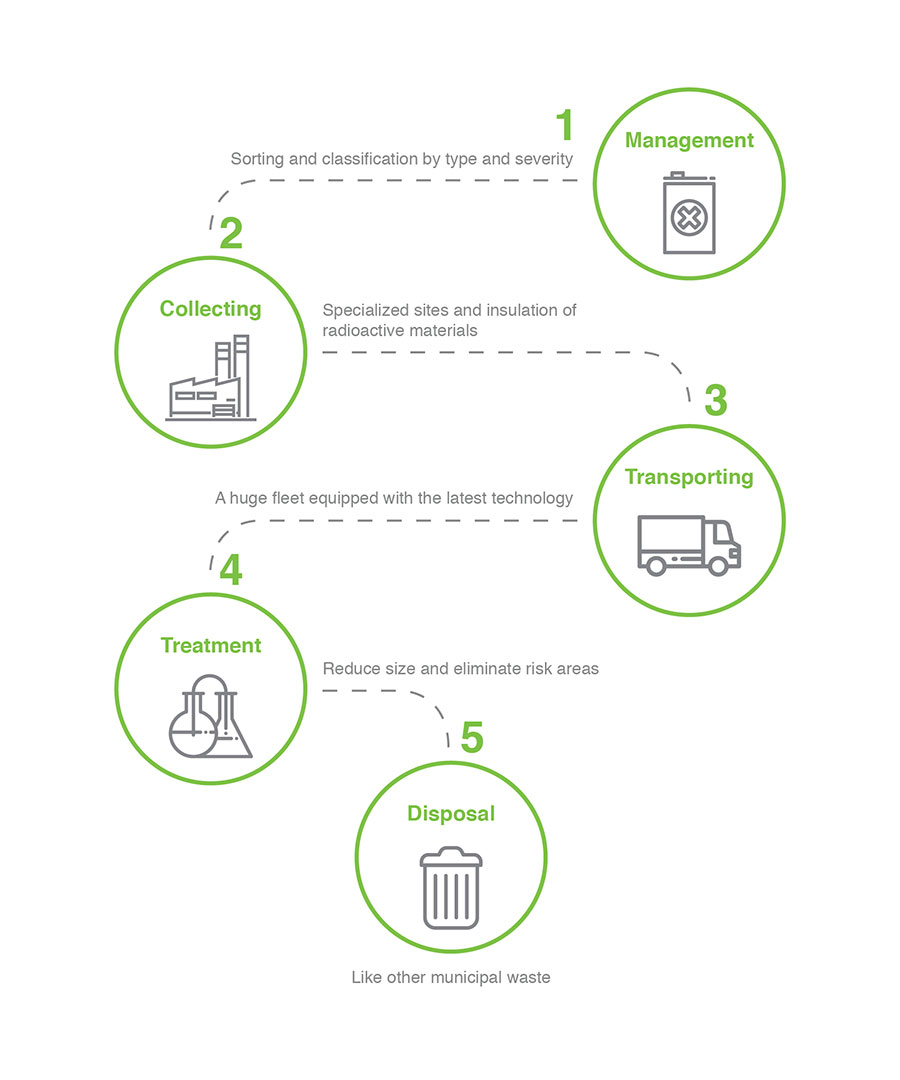 Main Achievements
Launch of the first medical waste treatment plant in the Middle East in 1999.
Expansion and establishment of 13 stations in the Kingdom, as well as stations in three Arab countries.

Establishment of an integrated plant for plastic consumables and containers for the collection of sharps using appropriate raw materials, namely high and low density polyethylene.
Development of a special SEPCO model from the Auto Clave called SEPCO Clave, which was designed and produced locally in collaboration with research centers and studies in Saudi universities.
Obtain the patent on SEPCO Clave which has achieved a quantum leap in the field of medical waste treatment through:

Reducing the volume of waste by 70%.
No harmful emissions in the air.
Ability to process larger quantities of waste at lower cost.
Its high flexibility in operation.

Achieving the best in-service certification for healthcare services in the Middle East.